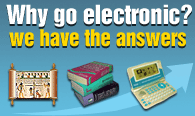 More info
Accessories




ECTACO iTRAVL NTL-14AS Talking 2-way Multilingual Language Communicator and Electronic Dictionary

ECTACO iTRAVL NTL-14AS Talking 2-way Multilingual Language Communicator and Electronic Dictionary

Simply put, our absolutely unique iTRAVL is the most remarkable multilingual travel and communication handheld in the world. Full to bursting with everything you could ever need when visiting a foreign destination, it is second to none when it comes to helping you get your message across quickly and easily. Now say goodbye in the language of your choice to misunderstanding forever, and always get what you want the first time. There's almost nothing you won't be able to accomplish with the iTRAVL by your side! Using an astounding combination of the most advanced speech recognition for 13 languages and high-definition recordings of authentic native speakers, iTRAVL understands exactly what you say and offers a crystal-clear reproduction of the same words and phrases in whichever foreign language you choose. That means that by simply speaking into the device you and your listeners will be provided with a real-time, completely intelligible response that anyone can understand. It's really nothing short of miraculous! Your very own personal interpreter that is ready to help you day or night, iTRAVL will let you succeed in business meetings, enjoy sightseeing more, meet new friends and deal with emergencies and with less bother and expense than ever before.

Price: CAD789.95

More info
Accessories



ECTACO Partner XL-1500 Multilingual Talking Dictionary

ECTACO Partner XL-1500 Multilingual Talking Dictionary

Featuring an absolutely unique combination of language pairs and voice output capabilities, it is the only handheld dictionary to contain synthesized TTS (text-to-speech) functionality in English, Arabic, Chinese (Mandarin), Dutch, French, German, Greek, Hebrew, Italian, Japanese, Korean, Polish, Portuguese, Russian, Spanish within the same device. A giant leap forward for modern electronic translation, the ECTACO Partner XL-1500 Multilingual Talking Dictionary is absolutely one-of-a-kind. Never before has it been so easy to communicate in so many languages. Thanks to its advanced synthesized voice output capabilities, the Partner XL-1500 makes traveling almost anywhere in the world enjoyable and all your communication effective. Its ability to speak translations aloud using the latest TTS modules lets it act as your own personal language assistant and interpreter. With an astonishing vocabulary database of over 3,367,000 words, you will always find something to say. And the inclusion of a 14-topic phrasebook containing travel-related words and phrases means that it can also speak 31,000 phrases in 15 languages to help get your message across in almost any situation. All the features are accessed via an intelligent, user-friendly interface and are located quickly using the fastest and smartest search functions yet deployed. Exceptionally powerful, effective, and affordable, the Partner XL-1500 is the first choice for outstanding international communication.

Price: CAD219.95

More info
Accessories




ECTACO Multi 19 language SpeechGuard TLX: Rugged World Travel Smartphone, Voice Translator & Language Assistant

Model TLX/WLD19

Raising the bar on smartphones, the ECTACO Multi 19 language SpeechGuard TLX is the perfect tool for a world traveler, language learner, or someone who just needs a superior, rugged Smartphone. The entire system is based on years of research & modeled after the original SpeechGuard, which was used by US Armed Forces during the second Gulf War. With the ability to receive FREE incoming calls in over 135 countries with NO CONTRACT it's easy to stay in touch with friends and family when you travel. Loaded with everything you need for making sense of your world in a foreign land, the SpeechGuard comes with a voice translator, picture translation, travel information, voice recognition and a Language Teacher to name very select few. It's even been called the "Panasonic Toughbook" of the smartphone world!

Old price: CAD1,069.95 New price: CAD919.95

Chinese Traditional Discount Center
Ectaco, Inc. is the world leader in the development and manufacture of electronic handheld dictionaries and language translation software. An electronic dictionary is our leading product, our passion and our expertise. Since the foundation of the company in 1990 we have been helping people communicate better in over 30 languages. We focus on designing modern high-quality multilingual tools for wide consumer audience.
Millions of people all over the world are using our electronic dictionaries - efficient tools for businesspeople and tourists, professional interpreters and students, a necessity for people residing abroad. We make advanced electronic translators enabling effective multilingual communication. In response to growing demands we expanded our worldwide presence and now have offices in 16 countries.
In case if you need assistance choosing the right product or have technical questions, please feel free to contact our Customer Service and Technical Support respectively.
Our dealers' network is constantly growing. Over the years we have developed cooperation with a great number of enterprises. Would you like to partner with us? For more information, visit the Dealer Section on our site.