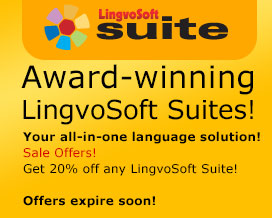 Ordering from our site is easy and secure.

If you are unable to access the page with the order form, please install SSL support on your browser.

We accept all major Credit Cards (Visa, MC, AmEx, Discover).
To ensure the security of your transactions, we are proud to partner with these programs:
All orders are delivered by a courier service in 3-4 business days.
Shipping cost is determined by the weight & size dimensions of your purchased items, the distance between our warehouse and your shipping address, and how quickly you request the package be delivered.

All items
> Translation Software
for all languages
We offer a spectacular lineup of applications for the Windows Mobile operating system. In this section, you'll find many titles apt for instantly turning your PDA into a language teacher or a travel companion with impressive linguistic capabilities. The available language tools range from dictionaries, to translators, to travel software, to machine translation, to language support.



This category lists applications designed specifically for desktop and laptop PCs. These applications introduce the flexibility of handheld software into the desktop environment. Use this software to quickly accelerate foreign languages proficiency with the convenient and fun study materials included. Translate full documents, web pages, and texts in one tap. Test ECTACO handheld dictionaries with the software emulators found in this section, Access the world of languages, right from you personal computer!



The largest and most expansive bi-directional dictionaries, phrasebooks and language learning software for all Android devices! With speech recognition, fluent pronunciation and the ability to learn languages, these apps perfect for any language enthusiast. No need for an Internet connection or 3G - the apps comes pre-loaded with everything you need for studying, traveling, or anything on the go.



Visit this section to view the handy bidirectional dictionaries available for the MS Smartphone operating system. Download, installed and use them as quick-reference language resources, get yourself armed for multilingual conversations!

Bi-directional Dictionaries

Software for Travelers

In this section, we are happy to offer a rich lineup of linguistic software titles for Palm OS. Build on the original capacities of your PDA, enjoy the invaluable additional functionality our software brings onboard. Good for both students and travelers alike, this software will serve you in a nice selection of languages, so get sophisticated, and enjoy your enhanced Palm device!



Get the most out of your telephone; upgrade it to a mobile language solution! The software applications available in this category run on various Nokia and Sony Ericsson models. Use your phone to help you come up with the right words, regardless of the shore you come on to.

Nokia Software Products

Sony Ericsson Software Products

Here, we offer linguistic software bundles to any linking: grouped by language, operating system, or device, these bundles are a true bargain. Purchase the language solutions you need in bulk and save tremendously! Comprehensive and robust, these software collections will facilitate increased language efficiency and help you succeed in doing international business, visiting foreign countries and learning new languages.