ONYX BOOX Caesar 3 is a device for reading electronic books with an "electronic paper" E Ink Carta screen and the built-in MOON light+ system with color temperature control and the SNOW Field function. This model is designed for those users who are planning to use it for reading and who don't need a variety of additional functions. Its great E Ink Carta screen with high contrast makes reading comfortable and not tiring even during long use. Smoothly adjustable MOON Light+ lighting makes reading comfortable even under poor lighting conditions and 8 GB of internal memory allow the user to store a vast library in one device.
What is SNOW Field?
SNOW Field is an operating mode of the screen, allowing to reduce the number of artifacts on the screen within partial refresh. If this function is on, full refresh of the screen is not needed.
What is MOON Light+?
The latest researches have shown that blue light prevents the production of melatonin (daily rhythms regulator), which is necessary for a person to sleep. Therefore, after reading on a glowing screen of an ordinary tablet or smartphone, it is often difficult to fall asleep.
MOON Light + allows you to adjust the brightness of cold and warm LED lights independently, choosing at will white light for reading during the daytime, and more yellow for reading before sleeping.
Screen lighting
The MOON Light+ technology enables one to use the device in the dark or under poor lighting conditions. When this function is in use, soft luminescence of the screen comfortable for reading in dark rooms is being generated. It also has a color temperature control.
High performance
A quad-core processor with 1.2 GHz clock rate and 512 MB of RAM ensures comfortable work with difficult documents. And 8 GB of nonvolatile memory and a microSD-slot supporting memory cards up to 32 GB allows the user to store a whole library.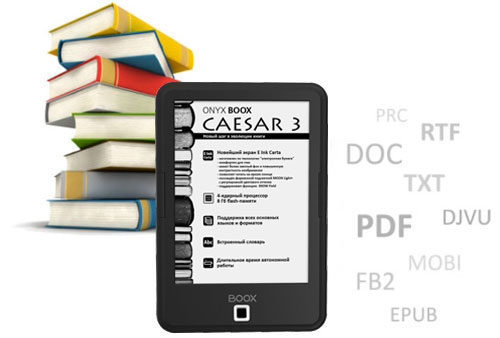 E Ink Carta screen
The screen of the latest generation E Ink Carta with a diagonal of 6" has a lighter base and higher contrast than other screens of the type. It makes the text readable in bright sunlight and has a high rate of a screen refresh. The absence of shimmering light and the principle of image formation with the E Ink method makes reading comfortable for your eyes.
Format support
The BOOX software allows the user to open files of various text and graphic formats. When reading you can change font style and size, disposition of pages, insert bookmarks, add your own fonts and zoom documents at your will.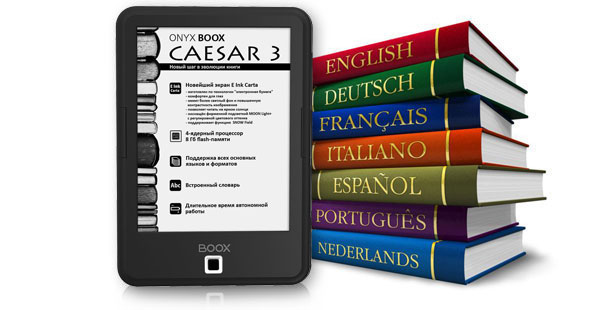 Built-in dictionaries
There are pre-installed English-Russian and Russian-English dictionaries in this model. To translate an unknown word just choose it in the text.
Language support
The BOOX allows the user to read documents in different world languages. Amongst them there are such languages as Russian, English, German, French, Spanish, Arabic, Swedish, Chinese, Japanese and many others.
Package Contents:
ONYX BOOX Caesar 3 electronic reader
User's manual
USB cable
Warranty card
Features:
Display
6", E Ink Carta, 16 levels of grey, contrast ratio 14:1, 758 × 1024 pixels, with the SNOW Field function
Lighting
MOON Light+
Processor
4-core, 1.2 GHz
RAM
512 MB
Internal memory
8 GB
Expansion slot
For micro SD/microSDHC cards
USB interface
microUSB
Supported file
Text: TXT, HTML, RTF, FB2, FB2.zip, MOBI, CHM, PDB, DOC, DOCX, PRC, EPUB
Graphic: JPG, PNG, GIF, BMP
Others: PDF, DjVu
Battery
Polymer Li-ion, 3000 mAh
Operating system
Android 4.4
Size
6.7x4.6x0.3 in
Weight
6.42 oz
Warranty period
1 year
Note: Since a part of the Flash memory size is system software, the portion available to the user is less than the total size of the memory chip.
The device is designed primarily for reading electronic books, but has some additional features which are defined by the installed software. For example, the current firmware has functions such as calendar, dictionary, access to the Internet, and others.
The device is freely reprogrammable on request of the user who can install, delete and create programs.
The device has a battery that provides long, autonomous usage.